Les Enfant Terribles
There are signs that I am waiting for something
And it takes a step forward, one at a time
But I am not sure, only that is a certainty
I lie in wait for that sound, in the moment, to whirl like a faint chime in the wind
It's hard sometimes, to push yourself forward when the world is watching you
But I know that they are all watching, waiting for the next step
So I have to do it without much rest, the time won't stand still
And if tomorrow is watching
Like the future is watching me
Then even the time is growing old
Of terrible apprehension

ASPHYXIA
Turning over the page
ASPHYXIA
The next instalment
Let us entice your appetite
We're hungry to let it engross you
Waltzing into the next chapter
A vigorous artistry of perception

Canned Chaos
Obstructions halt our progression
It's how you capture them that leads to a clear path
You control the chaos
Hollow distractions within the bigger picture
Do you stumble?
Do you stride?
The embodiment of one lies beneath us all
Erase The Line
Flowing toward an unfamiliar realm
Sculpting unique designs
Erasing that line
Devising my concepts
Bringing them to substance
Procuring higher perception
Black And White
An introduction to keys from strings
Transposing myself toward a new realm
It's the same, however a contrast – a tabula rasa
Forging my way through discovery
The vivid forthcoming
Luna Phases
Painting ourselves a new picture
Creation is inevitable
A new home, a fresh start
We persevere onwards, we strive to achieve
With our collective means, to succeed is only the beginning
She Lab Luck
The future is an accumulation of the past
But I think that it's also the future that decides the past
So I do not wish to forget my past
If success is built on failure, and I do think that's true to an extent
It's only after you succeed that all your failures start to have meaning
It doesn't matter how I do it, but if I succeed
This band will become something really valuable
A Way Out
We moved our rehearsal space to a new location
With this, we can also focus on more projects
that will create the next focus on our roadmap for 2021
We've been proactively arranging logistics and planning
and it was a welcome birthday gift too
I want to see how we return to our rehearsal
And create new possibilities, the future is bright
A New Start
I started the pre-production of our
new work and the next chapter that will
unravel itself in 2021, here's hoping to a new
start.
I hope everyone had a good Christmas
and a happy new year to close off 2020
Lately I've been playing some more on the acoustic guitar
I wonder if we can create something new?
Red Leather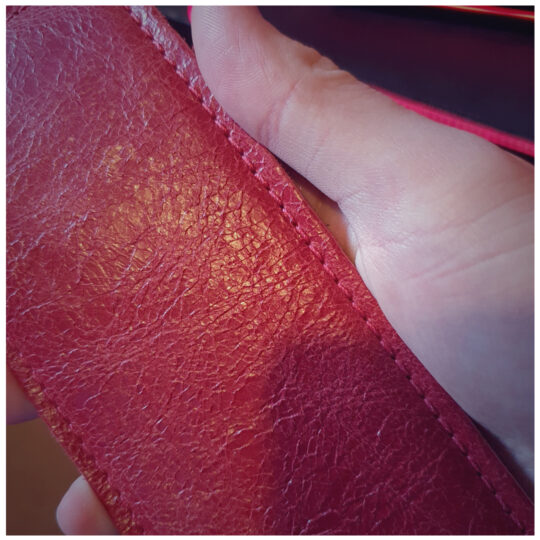 I've recently been indulged in finding new
guitar straps for my arsenal, different leather
patterns and grains, and full grain ones in particular
have a beautiful texture to them.
They'll add nicely to my existing collection!